AMP RESEARCH POWER STEP RUNNING BOARDS (17-19 L5P 6.6L Diesel)
---
Boards will need to be trimmed on Double Cab models
No drilling required for installation
Installation requires modification of fender trim
NOTE: Stock levels change regularly. If your product is unavailable, please call or chat to verify inventory.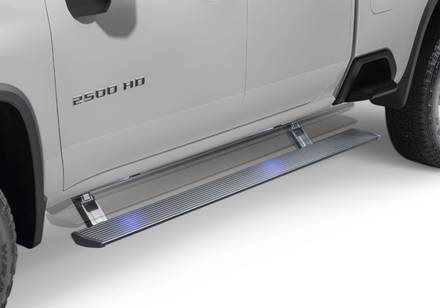 AUTOMATIC RETRACTING STEP
PowerSteps automatically deploy when the door opens and will retract after a 3 second delay when the door closes.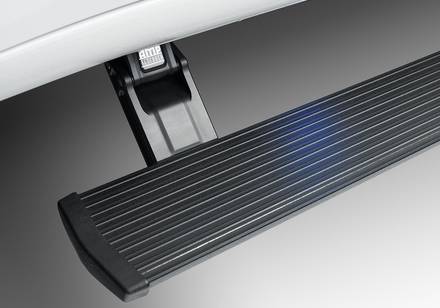 LOWER DEPLOYED STEP
AMP Research PowerStep Running Boards drop much lower than other steps. Most stationary running boards rest 1-2 inches below the body and are often still too far from the ground to be convenient for many passengers.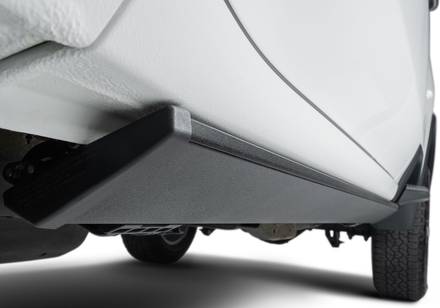 MAXIMUM GROUND CLEARANCE
The PowerStep Smart Series Running Boards tuck under the vehicle when retracted, providing amazing ground clearance while driving, and the functionality of a perfectly placed step when deployed.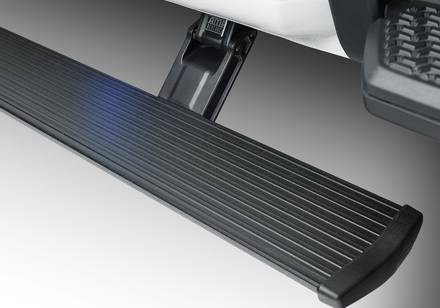 WIDE STEP SURFACE
The board width is a massive 6 inches and perfect for any type of footwear.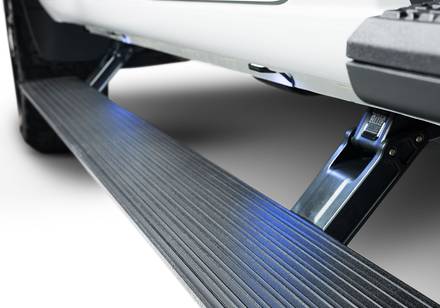 INTEGRATED LED LIGHTING
All PowerSteps Include two pair of LED lights to illuminate the running board and ground below to maximize safety when entering and exiting your vehicle. The lighting will activate when the steps deploy and will shut off when the steps are retracted!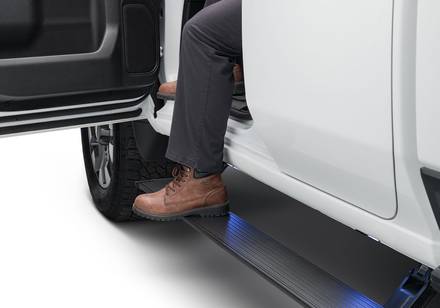 600 LB LOAD CAPACITY
From the brackets to the boards, each PowerStep Running Board features a 600 LB load capacity - that is twice the weight capacity as most other steps!
The original electric-powered running board
Premium, single-motor design automatically deploys and retracts boards
Corrosion-resistant die-cast aluminum construction
Military-grade black PTFE coating
6-inch wide, cab-length steps
Textured, slip-resistant step surface
Low-profile, integrated LED courtesy lights
Optional

 

Override Switch

 

is available for manual control
Includes vehicle-specific installation guide and mount kit
Mounts to vehicle's rocker panel
Newer applications connect to OBDII port via Plug-N-Play module
Professional installation recommended
5-year/60,000 mile warranty
While every pickup truck, Jeep, or SUV can benefit from a set of running boards, only some consumers enjoy the aesthetic. Luckily, AMP Research offers its patented power step; a heavy-duty, power retractable running board that deploys when needed and retracts under the body when not in use.
AMP Research utilizes only the finest materials, including die-cast aluminum and stainless steel for exceptional durability and corrosion resistance. The step's surface is treated with a military-grade PTFE coating, guarding the underlying alloy against oxidation and abrasions; the black finish also provides a sleek, discreet appearance.
For ease of use, each power step includes low-profile LED courtesy lights, illuminating the step surface and surrounding area to ease low-light entry. To simplify the installation process, each set of power steps includes a vehicle-specific mounting kit, thorough instructions, and; if applicable, a plug-n-play OBD II module.
To ease entry into your ride without sacrificing aesthetics, consider AMP Research's power steps.
Our Guarantee
Truck Experts a Call Away
Spec Sheet
| | |
| --- | --- |
| STEP TYPE | Electric |
| STEP LENGTH | Cab Length |
| STEP WIDTH | 6" Wide |
| BRAND | AMP Research |
| FINISH | Textured Black |
| WARRANTY | 5 Years/60,000 Miles |
| MATERIAL | Aluminum |
| MADE IN AMERICA | Yes |
California Residents: 
Prop 65 Warning
Order Notes
Cleaning your PowerStep
In adverse conditions, debris such as mud, dirt, and salt may become trapped in the running board mechanism, possibly leading to unwanted noise, or binding.
Prepare for cleaning
Manually set the running boards to deploy: The running boards can be manually set in the deployed position by opening the door, and then place your foot on the step. Leave firm pressure with your foot on the step while you close the door. This will leave your steps in the deployed position.
How to maintain your steps:
Using a pressure washer to clean the front and rear linkages which are all 4 hinge points for your PowerSteps. Avoid spraying the motors directly.
After washing, apply silicone spray (dry Film lubricant) only, to all 4 linkage arms and all pivot pins, some of these pins will be located up high on the linkage arm as well. Then cycle the door to work the lubrication in to the hinge points.
Do not apply silicone, wax, or protectants like Armor All® to the running board. Do not lubricate with any greases, oils, WD-40, or penetrants.
This cleaning should be done periodically, or when debris such as mud, dirt or salt becomes trapped in the running board mechanism.